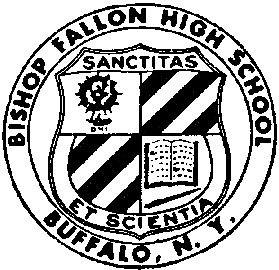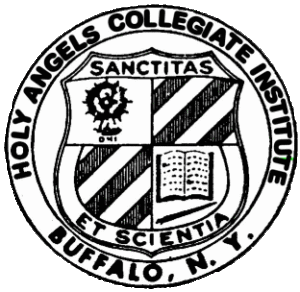 Save the Dates
The Dates are set for next year!
16th Annual Golf Tournament – June 17, 2019
All Years Reunion – August 10, 2019
Hall of Fame Dinner – October 25, 2019
For Discussion – Collecting of BFHS-HACI Memorabilia 
The Board of Directors discussed the concept of collecting school memorabilia at the November meeting.  As many of us start to downsize, what to do with our "high school stuff" is a topic we will all face.  If your interested in contributing to the collection, contact  John Leising '75 at
jfleis100@aol.com
Congratulations 2018 Fall of Fame Inductees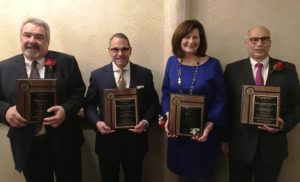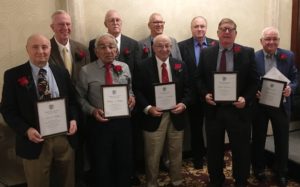 Class of 1969 50th Reunion – Save the Date!
The Class of 1969 50th reunion will be held on Saturday, August 3, 2019. For further information contact Joe Barrile '69 at fallon69.reunion@att.net
Recently Deceased
Joseph P. Minnuto ' 64 – December 2, 2018 Obituary
Dennis J. Lawson '69 – November 14, 2018 Obituary
Ignatius Pecoraro '68 – September 13, 2018 Obituary
Patrick J. McPartland '63 – August 22, 2018 Obituary
Edward J. O'Connor '49 – July 30, 2018 Obituary
Timothy P. Burke '55 – August 20, 2018 Obituary
Salvatore Scibetta '69 – August 5, 2018 Obituary
Michael Connors '60 – July 31, 2018  Obituary
Joseph M. Camizzi '74 – June 10, 2018   Obituary
Anthony Guizzotti '56 – May 7, 2018 Obituary
Timothy F. Collins '58 – May 7, 2018  

Obituary

Joseph D. Senall '56 – May 4, 2018  Obituary
Bernard Ozolins '57 – April 30, 2018

Obituary

Brian Durham Sr. '66 – March 14, 2018 Obituary
Paul Kramer '65 – March 11, 2018
Gerald J. Goralski '56 February 17, 2018 Obituary
Russell J. Barbera '53  –  January 9, 2018   Obituary
Deceased Recently Updated
Multiple changes have been made to the Class of 1968 (updated 10/2/18)
Michael N. Schiffmacher '58 (updated 8/28/18)
Daniel Gemerek ' 49 March,  2017 (updated 8/29/18)
James Zieziula '62  January 29, 2016 (updated 7/25/2018)
Robert T. Bongi '55 – April 20, 2016 (updated 7/6/2018)
Robert E. Kirwan '55 (updated 6/30/2018)
James R. Niederpruem '68 (updated 4/22/2018)
12/10/2018