2019 Hall of Fame Dinner
Save the Date – October 25, 2019
Honoring 2019 Hall of Fame Inductees Al Marabella 1960,  Paul Kramer 1965,  Vito Rinaldo 1965, Frank Ruggiero 1968,  &  Jacob Pfohl 1969
 2019 Hall of Fame Dinner information is available at  Events – Hall of Fame
Special Hotel Rates are available courtesy the Class of '65 . More information is available at Special room rates for 2019 Hall of Fame
Don Tomasula, 2017 Bishop Fallon Hall of Fame member, to be inducted in Buffalo Broadcasters Association Hall of Fame. 
The event is Thursday, September 19 at the WNED TV studios, 140 Lower Terrace, Buffalo, New York, 14202. We are being offered the member's price of $75 per person. If your interested in attending contact Nadine Tomasula at 716-675-3330 or at ntomasulo@roadrunner.com by Monday August 19.
The 2019 All Year Reunion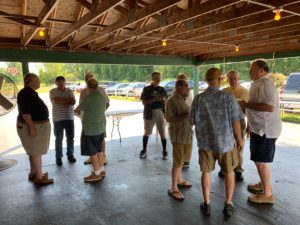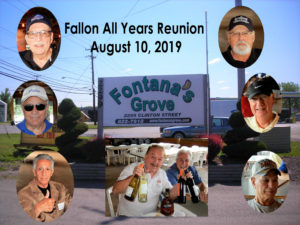 The All Year Reunion was held on Saturday, August 10, 2019.  Over 85 Classmates attended the event at Fontana's Grove.  The food and beverages flowed as the conversations continued throughout the  day.  The proceeds from the event benefit our Tuition Assistance Fund  
Class of 1969 50th reunion – A resounding success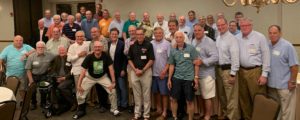 The Class of 1969 50th reunion was held Saturday, August 3, 2019.  42 Classmates were able to attend from all over the country, Canada, and China!  The link for more information will be available at '69 50th Reunion in the Classmates section.   
Fr. James Erving OMI Food Pantry at Holy Angels Church As you can see from the crowd of people waiting to be served by The Fr James C Erving OMI Food Pantry at Holy Angels Church the need is great. Unfortunately we are out of funds. This month we were unable to purchase fresh produce. Next month we will be unable to purchase chickens. YOUR HELP IS NEEDED TO "CONTINUE THE MISSION" of St Eugene De Mazenod and Fr James C Erving OMI on Buffalo's West Side. Please send whatever you can to: Fr James C Erving OMI Food Pantry, Holy Angels Church, 348 Porter Ave, Buffalo, NY 14201 716 885 3767
For Discussion – Collecting of BFHS-HACI Memorabilia 
The Board of Directors discussed the concept of collecting school memorabilia at the November meeting.  As many of us start to downsize, what to do with our "high school stuff" is a topic we will all face.  If your interested in contributing to the collection, contact  John Leising '75 at jfleis100@aol.com
Recently Deceased
Deceased Recently Updated
Michael Fronckowiak '64 April 10, 2009 (updated 8/4/2019)
Peter J. Pecoraro '67 May, 2018 (updated 8/1/2019)
John Silverstri '69  September 15, 2009 (updated 7/1/2019)
Robert Reis '59 (updated 7/1/2019)
John E Holbel '56 July 11, 2015 (updated 71/1/2019)
Michael Sullivan '50  Deceased 2015 (updated 71/1/2019)
John W. Stiny  Faculty  December 24, 2016 (updated 4/30/2019)
David J. Gmyrek '69 August 6, 2016 (updated 4/3/2019)
9/5/2019